HiT

E

X: Reflowable Output for T

E

X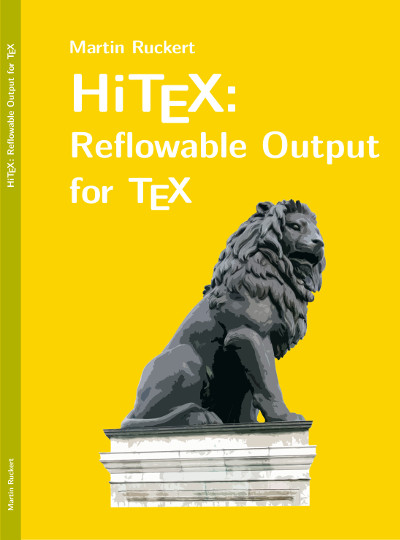 Reflowable Output for T

E

X
If you want to know what this is about, read the introductory paper in TUGBoat issue 39:3, 2018: HINT: Reflowing TEX Output.
Resources
Warning
This is a pre-release of the hitex program. It is still buggy but can be use to conduct experiments.
There is currently no support for output templates.
The support for tables is limmited and largely untested.
Installation Instructions
You need a full installation of T

E

X to begin with.

Find out where your installation stores the binaries. For example by running which latex. It will answer somethink like /usr/share/texmf/bin/latex or /c/texlive/2019/bin/win32/latex. Store the hinitex binary in the same directory. This is important because part of the search path, which the kpathsearch library uses to find input files, is relative to your home directory and the other part is relative to the program location.

You probably need administrator rights to access the directory and - depending on your download program and operating system - you must make the file executable. On linux use chmod 755 hinitex.

If you do not have administrator rights, check below for instructions how to install hitex locally.

You have to add two (symbolic) links named hitex and hilatex for example using the command ln -s hinitex hitex and ln -s hinitex hilatex.

There is only one program hinitex but when you call it under the name hitex it will load the hitex.fmt format file. And when you call it as hilatex, it will load the hilatex.fmt format file.

Find out where your installation stores the format files. For example by running kpsewhich latex.fmt. It will answer something like /usr/share/texmf-var/web2c/latex.fmt.

Another method is running kpsewhich --show-path fmt which prints a lengthy search path.

Store the format files hitex.fmt and hilatex.fmt in the same directory (you might again need administrator rights for this).

You might need to run mktexlsr because the kpathsearch library will first check the ls-r files, and if found will then not check the directories. Again you probably need administrator rights.

These format files have hyphenation tables only for german and english. If you need different languages, you need to configure your language.dat file and generate your own format files. Since hinitex is based on Don Knuths original TEX distribution, it will run out of memory if you try to add all the languages that a typical installation of TEX offers today.

If the precompiled binaries do not fit your needs here are the C source and header files as well as a simple Makefile: hitex.tgz

You need the kpathsea library installed on your system to compile the program. Once you have the hinitex binary, proceed with the installation instructions as above. Unless you change the sources, you can use the same format files.

If you must install hitex localy, you can put the executable files somewhere on your search path. Check your PATH variable for a directory where you have write access. If there is none, you have to change your path variable or explicitely specify the path each time you run the executable. Then (see next paragraph) run kpsewhich with debugging enabled and see if the search path includes some directory relative to your home directory. On UNIX machines this is usually the case. You can store the format files then into these local directories.

If your new hitex program has problems finding its input files, set the environment variable KPATHSEA_DEBUG to some small value. Something like export KPATHSEA_DEBUG=3 or 12 should be enough. Running hitex with this variable set will give you lots of information about which files and directories are considered. You can compare this to a run of regular tex or latex and see where the differences are.

If all breaks down (well, this is a prototype and not a distribution) locate the files and copy them into your working directory. The current directory is usually the first item in the search path.

It some kpathsearch library expert is reading this and has suggestions for improving these instructions, please let me know!
Errata and Improvements
Segmentation fault if commandline nonempty and file not found
Fixed: March 30, 2020

time, day, month, and year are set to 4. July 1776
Fixed: March 30, 2020. They are set using GMT.
Support
If you want to know how to compile, run, and test the programs, see the instructions above.
If you have read the instructions and still have questions, send me an email to ruckert (at) cs.hm.edu
If you want to help, send me immediately an email to ruckert (at) cs.hm.edu.
---